Imagine that you're sitting down to put together your worship slides for the weekend. You've got the song list right in front of you with some notes from the worship director, but you've been dreading the moment when you have to start tediously copy-pasting lyrics—so you stall. You play around with your church media and spend way too much time finding the right motion background for each song.
Now imagine that instead of copy-pasting song lyrics, you type the name of the song into your church presentation software and it automatically pulls all the lyrics from that song onto your backgrounds—verses, chorus, and bridge all on their own slides. The font, text color, and text size have already been formatted to fit the slides.
Oh, and all that complicated copyright information you have to add? It's already there.
This time-consuming process you do every week takes just minutes when you link Proclaim and CCLI SongSelect.
What is SongSelect?
Even responsible churches can have a hard time deciphering how to honor copyright laws. SongSelect provides your church with blanket copyright licenses for popular worship songs.
Without blanket licenses, your church is legally required to obtain an individual license every time you use a song—even if you've used it before. A blanket license is an annual license fee that gives your church the right to use a wide selection of songs as much as you need to. That means you don't have to be some kind of copyright guru to do the right thing and honor the artists who work hard to provide your church with meaningful worship songs.
SongSelect is produced by CCLI, but you can connect your SongSelect account to Proclaim. That simple step changes the game for whoever puts together song slides each week.
How Proclaim and SongSelect connect
Proclaim connects to a number of time-saving tools (including Planning Center Online and Logos Bible Software!) to help you put together presentations faster every week.
Linking these time-saving tools happens within Proclaim, like this: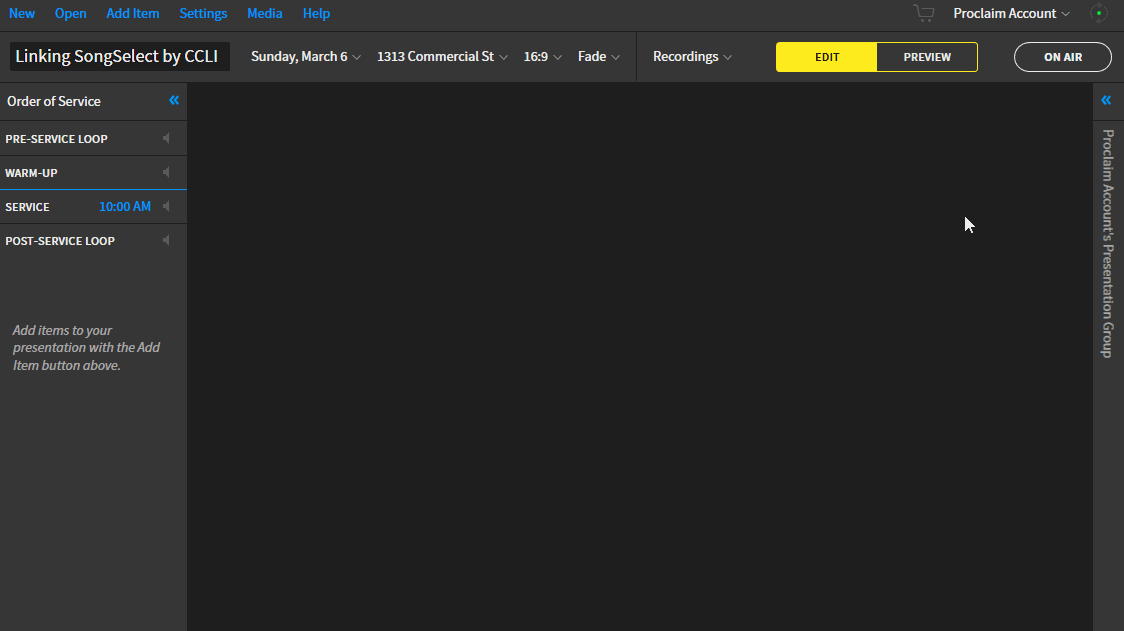 Once your accounts are linked, you don't even have to import song files—just add a "song" item to your presentation and start typing the title of the song you want. SongSelect tells Proclaim what the lyrics are, and Proclaim adds them to your presentation, complete with copyright information.
If you create custom arrangements, Proclaim remembers that. When you create slides for a song, Proclaim saves it in "My Songs," so you can quickly add the same arrangement you created before.
Get Proclaim free for 30 days, and say goodbye to typos! No credit card required.